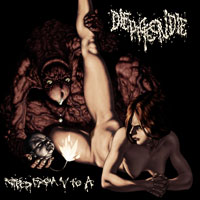 In early 2009 I wrote a list of "recommended" grind/hardcore/etc releases for the third issue of Vomitose zine, which never ended up coming out, so I thought I'd post it cause there are some possibly-overlooked fuggin classics here for sure!

AGORAPHOBIC NOSEBLEED – Honky Reduction LP (USA) – RSR
Nice vinyl reissue of classic insane-o drum machine grind.
ATAVIST - II: Ruined CD (UK) – Profound Lore
Crushing slow-mo doom like Corrupted, but with a guitar sound like Intumescence!
BLUE HOLOCAUST / EMBRYONIC CRYPTOPATHIA split 7" (France/USA) – Goatgrind Records
Best drum machine goregrind around/Filthy downtuned gore.
CREAMFACE / MISOGYNIST PUSSYSLASHER split CD (Finland/Finland) – Lolita Slavinder Records
Crude, sleazy, depraved porngrind to make your skin crawl.
DIE PIGEON DIE – Ripped From V to A CD (Melbourne, Australia) – No Escape Records
Monstrous goregrind with some of the best vocals in the genre.
DYSMENORRHEIC HEMORRHAGE / SAVAGE MAN SAVAGE BEAST split tape (USA/USA) – Self-released
Two of the best drum machine grind bands ever, on the one tape. Track it down!
THE ENDLESS BLOCKADE/HATRED SURGE split LP (USA/USA) – Schizophrenic Records
Intense hardcore/grind/sludge split. Anguished and very angry.
EXIT WOUNDS – 17 Wounds of Exit CD (Poland) – No Escape Records
Hyperactive raging grindcore intensity, like Yacopsae meets Denak!
FINAL EXIT – Seasons Are Going and Going 3" MCD (Japan) – Rage For All
Blown-out brown note spastic whirlwind noisegrind from seasoned veterans of noise.
GREEN BERET – Out of Control CD (USA) – Prolapse Records
Top-notch discography of uniquely deranged and extreme experimental grind.
DAVE PHILIPS – The Hermeneutics of Fear of God LP/CD (Switzerland) – Absurd Records
F.o.G. songs chopped up and rearranged into a new and devastating wall of noise.
INSECT WARFARE/CARCASS GRINDER split 7" (USA/Japan) – Psychotherapy/Out of Control
Great split of brutal ultra-fast and catchy traditional grindcore.
INSURGENTS – EP 7" (Australia) – Endless Blockades
Debut release of energetic old-school hardcore punk from some town in the middle of nowhere.
INTUMESCENCE/MALIGNANT TUMOUR split 7" (Netherlands/Czech Republic) – Brigade of Natural Genocide
A bit old now, but this is Intumescence's best stuff – raw, thick, ultra-filthy goregrind at it's best!
LAST DAYS OF HUMANITY – Rest In Gore 1989-2006 2xCD (Netherlands) – Bones Brigade
Essential goregrind discography. Heaps of awesome rare & unreleased stuff.
NETJAJEV SS – Self-titled 7" (Sweden) – Rescued From Life
Very cool and unique outer-space hardcore fast punk insanity.
PARLAMENTARISK SODOMI – Har Du Sagt "A" Får Du Si "Nal" CD (Norway) – No Escape Records
Wild old-school grindcore with spectacular songwriting and strong Repulsion vibes.
ULCERRHOEA – Rise For The Downfall CD (Sweden) – No Fucking Labels/Breathlike Violence
Raw as fuck classic goregrind demo tapes and unreleased stuff. Bloody essential!